Association for the Study of African American Life and History Features Dennis Farm Presentation
---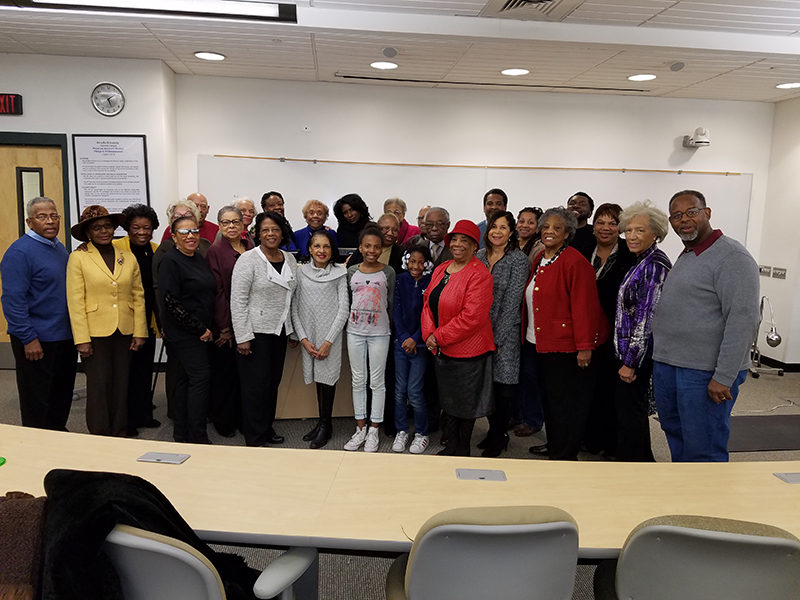 Photo Caption: Dennis Family descendants DFCLT President Denise Dennis, first row, fifth from left in gray dress, and Darryl Gore first row, far right, pose with members of ASALH's Philadelphia/Montgomery County chapter, March 26, 2017.
The Philadelphia/Montgomery County chapter of the venerable Association for the Study of African American Life and History (ASALH) invited DFCLT President Denise Dennis to be their featured speaker at Arcadia University in Glenside, Pennsylvania on March 26, 2017. In her slide show and remarks, Dennis traced the history of the Dennis Farm from the Perkins-Dennis family's roots in 1700's New England to the mission of DFCLT today.
Founded by legendary historian Carter G. Woodson in 1915, ASALH began as the Association for the Study of Negro Life and History (ASNLH), changing its name to the current one in 1976. "The aim of this organization," Woodson wrote, "is to set forth facts in scientific form, facts properly set forth will tell their own story." The organization's official mission is "to promote, research, preserve, interpret, and disseminate information about Black life, history, and culture to the global community." Their official vision is "to be the premier Black Heritage and learned society with a diverse and inclusive membership supported by a strong network of national and international branches to continue the Woodson legacy."
In 1926, the association created Negro History Week to take place in February in homage to the birthdays of Frederick Douglass and Abraham Lincoln. Fifty years later, ASALH expanded February's Negro History Week to a month-long event establishing Black History Month, as we know it today.
Carter G. Woodson was the author of innumerable books on African American History, the first of which was The Negro in Our History, published in 1922. Among the books collected by the Dennis Family in the 19th and early 20th centuries were two copies of The Negro in Our History. One of them remains in the Dennis Family Collection; the other was donated to the Smithsonian's National Museum of African American History and Culture (NMAAHC) and is now a part of the museum's permanent collection.