Dennis Farm Honored at PA's 101st Annual Farm Show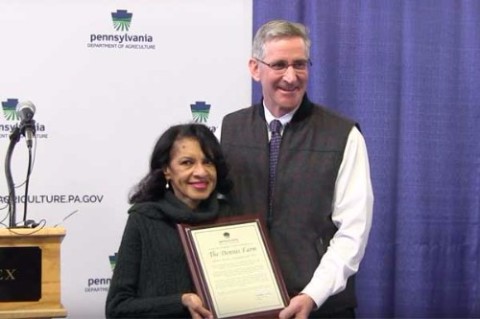 Pennsylvania's Secretary of Agriculture, Russell C. Redding, presents plaque to DFCLT's Denise Dennis. (photo courtesy of the PA Farm Show)
Click here to view the full presentation ceremony
On February 12, 2017, Russell C. Redding Secretary of Agriculture for the Commonwealth of Pennsylvania graciously presented DFCLT President Denise Dennis with a plaque honoring the Dennis Farm and DFCLT's work to preserve and share its story with the public. The presentation ceremony was held during the 101st Annual Pennsylvania Farm Show in Harrisburg, the oldest and largest farm show in the United States.
Beneath the logo of the Pennsylvania Department of Agriculture, the plaque says:
<br="">
Thanks and Recognition for the Contributions of
The Dennis Farm
Denise Dennis, President and CEO
The story of Pennsylvania agriculture is one of tremendous diversity in its crops,
production practices, and its people. The Dennis Farm is a unique and vital
component of the commonwealth's rich agricultural history.
It is fitting that the story of this farm be preserved and shared on the national stage,
hosting exhibits from the National Museum of African American History and Culture,
symposiums on the farm itself, and tours for the public to see the land that Prince
Perkins purchased, cleared and first worked.
Under the careful hand of current president and CEO Denise Dennis, the story of the
Dennis Farm is still being written. For her commitments to safeguarding the land and
the stories that the farmstead holds today, the Dennis Farm Charitable Land Trust
remains today a treasure for the Keystone State – one that is important to share with
the United States of America and with a world that deserves to hear the inspiring story
of freedom.
On behalf of the Commonwealth of Pennsylvania and all Pennsylvanians, I give my
thanks to Denise and the staff and volunteers who are faithful stewards of this farm.
Russell C. Redding
Secretary
February 12, 2017