The Ledger: A Treasure Uncovered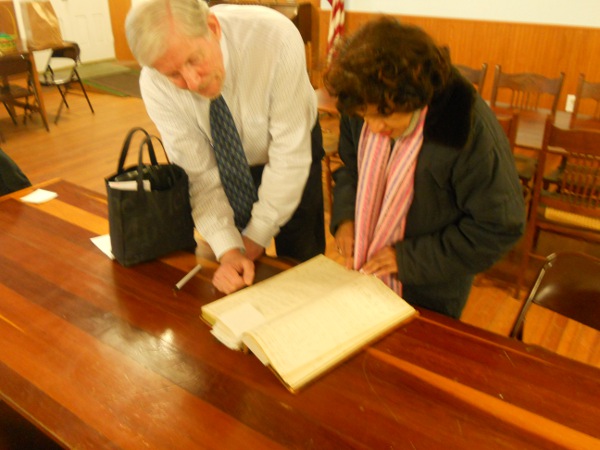 Pastor Ralph Christianson, President of the Brooklyn (PA) Historical Society, and Denise Dennis look at Legder (1845-1849) from Brooklyn country store.
A ledger from a country store in Susquehanna County was found detailing the everyday transactions, giving us a window into everyday life in the 1840s.
Three days before Easter Sunday, 2013, I had a "resurrection" experience at the Unitarian Church in Brooklyn, Pennsylvania, a few miles down the road from the Dennis Farm. I was at the church to meet Pastor Ralph Christianson, President of the Brooklyn (PA) Historical Society (BHS) who had a rare book to share with me, a ledger from a Brooklyn country store dating back to 1845-1849. The ledger is a handwritten record listing the names, purchases, credits and payments of local residents all those years ago, including some of my ancestors. I was so excited and eager to see the ledger that when I entered the church assembly room, where arrangements of Easter lilies were clustered on the floor, I forgot to take my coat off. Instead, after exchanging greetings with the pastor, I headed straight to the table where the ledger was waiting.
The book itself is impressive to see. More than a foot long, it is at least five inches across and two inches thick and has a patterned, rusty-gold colored leather cover that is so worn it feels like suede. Inside, each name and purchase is meticulously noted in elegant cursive handwriting that looks like calligraphy. The care and attention to detail given to this simple country store ledger bears witness to the pride the author took in his or her everyday work.
Most exciting, of course, were the entries. Pastor Christianson had placed paper markers in the pages where my ancestors' names were so that I could find them easily.
The minute I saw my family's names, 160 years melted away, the past merged with the present, and the daily lives of my ancestors came alive. Resurrection.
I was fascinated and couldn't stop pouring over the pages. I read that my great-great-great grandmother, Malinda Perkins, bought a pair of socks one day and that her husband, my great-great-great grandfather William Perkins, bought logwoods!
Many of the ledger entries were for my great-great-great-great uncle, Bristol Budd Sampson, a blind veteran of the Revolutionary War who was the husband of Phoebe Perkins Sampson, William Perkins' sister. Friends and neighbors made purchases for B.B. Sampson, charging them to his account, and their names are recorded, too. He regularly bought Y&H tea, coffee, sugar, tobacco, ginger and bushels of oats, wheat to be milled, and molasses. Also, soap, shoe tacks, Epsom salts, paper ties, a small basket and a darning needle are listed, too. A couple entries note that the country store cashed B.B. Sampson's Revolutionary War pension check for him. One entry notes that items for B.B. Sampson had been charged to William Perkins by mistake because Phoebe Perkins Sampson purchased them. It was fascinating to see the names of Bristol Budd, William and Phoebe together in an everyday transaction that now seems extraordinary. Bristol Budd Sampson died in 1848, the year before the ledger ends. It is easy to imagine that various neighbors made purchases for Phoebe and him because he was ill at the end of his long life and she was home caring for him. One of the people who made purchases for both the Perkins and Sampson households was named Marcus Underwood. We know from records that he, too, was African American and that an Underwood is buried in the Perkins-Dennis Cemetery. One author wrote that one of Bristol and Phoebe Perkins Sampson's daughters married an Underwood.
The ledger gives me a vivid, glimpse into the quotidian lives of my ancestors and their neighbors, which is personally meaningful. From a broader perspective, though, the ledger is historically significant because it is a witness, a "living" record of a community where decades before the Civil War, free African Americans and European Americans lived together peacefully as neighbors and treated one another with respect. The ledger, like the Dennis Farm, expands our understanding of American History.
— Denise Dennis
April 24, 2013