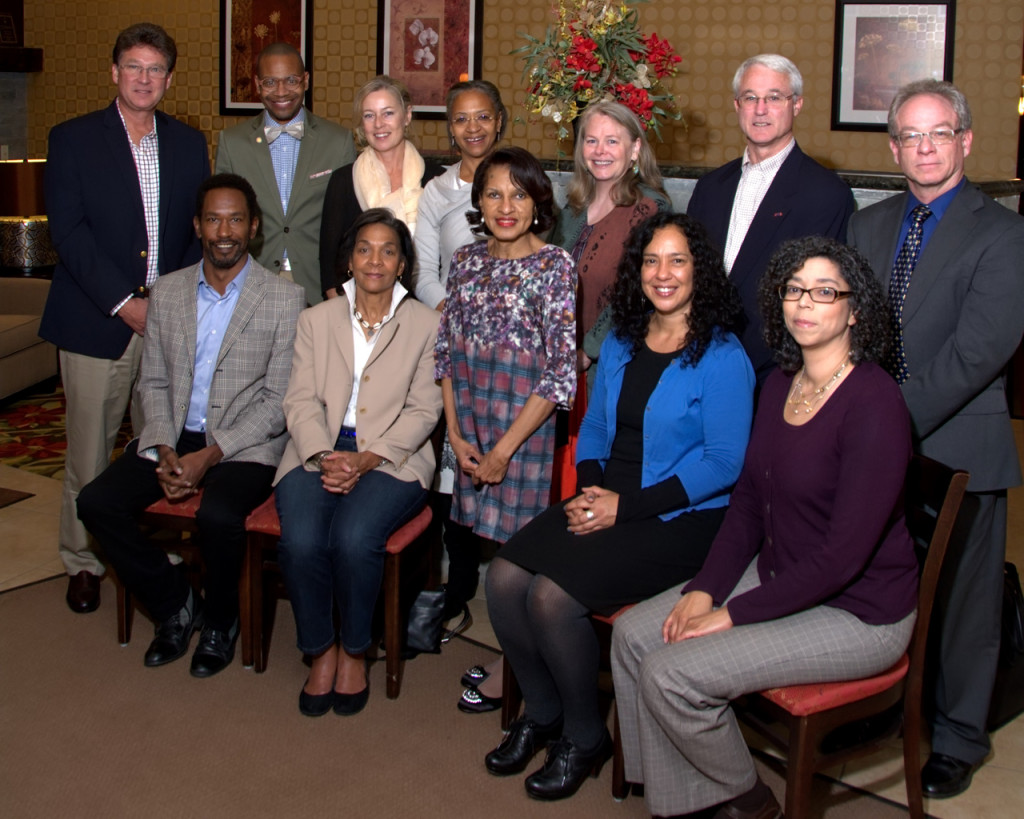 Photo Caption:
First row, from left to right, Brent Leggs, National Trust for Historical Preservation; Marilyn Whittington, Delaware Humanities Forum; Denise Dennis, Jennifer Scott, Jane Addams-Hull House Museum, Chicago; Tricia Brooks, National Endowment for the Humanities. Second row, from left to right, Philip Yocum, Architect; Dale Glenwood Green, Morgan State University; Linda Ziemba, Trace Design Group; Maria Madison, The Robbins House; Patrice Jeppson, Cheyney University of Pennsylvania, Wade Catts, DFCLT Board and Commonwealth Heritage Group; Thomas Scofield, Preservation Planner.
On October 6, 2015 DFCLT hosted an interpretive planning dinner meeting for ten invited guests at the Comfort Inn in Tunkhannock, PA, about a half-hour drive from the Dennis Farm. Tom Scofield, Preservation Planner for the town of Leesburg, VA, was the facilitator for the meeting. Scofield, co-author of the Dennis Farm's successful National Register of Historic Places nomination when he was a planner with John Milner Associates, began the meeting with an in-depth and detailed Power Point presentation about the history of the farm and DFCLT's on-going efforts to creatively and effectively present and interpret the site to the public while continuing our educational outreach. Following Scofield's presentation, a robust, illuminating and productive discussion ensued among the participants, all of whom were enthused about the farm and its potential.
In addition to Mr. Scofield, the group scholars, planners, preservationists and designers who participated in the dinner meeting are:
Tricia Brooks, Senior Program Officer, National Endowment for the Humanities;
Wade Catts, MA, RPA, Cultural Heritage Group, Inc., formerly of John Milner Associates, president, American Cultural Resources Association, and DFCLT board member;
David Coppola, PhD, president, Keystone College;
Dale G. Green, assistant professor of architecture and historic preservation, School of Architecture and Planning, Morgan State University;
Patrice L. Jeppson, PhD, historical archaeologist, adjunct professor, Cheyney University of Pennsylvania and West Chester University;
Brent Leggs, senior field officer, National Trust for Historic Preservation, and adjunct professor, School of Architecture, Planning and Preservation, University of Maryland;
Maria Madison, PhD, board president, the Robbins House: Concord's African American History Interpretive Center, Concord, MA;
Jennifer Scott, PhD, director, Jane Addams-Hull House Museum, University of Illinois, Chicago, and part-time professor, the New School of Public Engagement, New York, NY;
Marilyn P. Whittington, executive director, Delaware Humanities Forum, Wilmington, DE;
Philip Yocum, RA, NCARB, architect with a specialty in preservation and adaptive reuse of historic structures and sites, West Chester, PA;
and Linda Ziemba, TRACE Design Group, Concord, MA exhibition planner, facilitator and designer, director and Denise Dennis, DFCLT.
The meeting guests were given a separate guided tour of the Dennis Farm that highlighted the site's historical features including the 19th century farmhouse and mile of stonewalls, the stonewall-enclosed Perkins-Dennis Cemetery, the Prince Perkins archaeological site, and the barn complex ruins. All have agreed to serve as advisors to DFCLT.