The Dennis Farm is historical, but it is also a living place. As such, the landscape of the Farm is always changing. This year, DFCLT made a landscape change for the future that reflects the farm's past, by rebuilding the old bridge at the driveway entrance to the farm.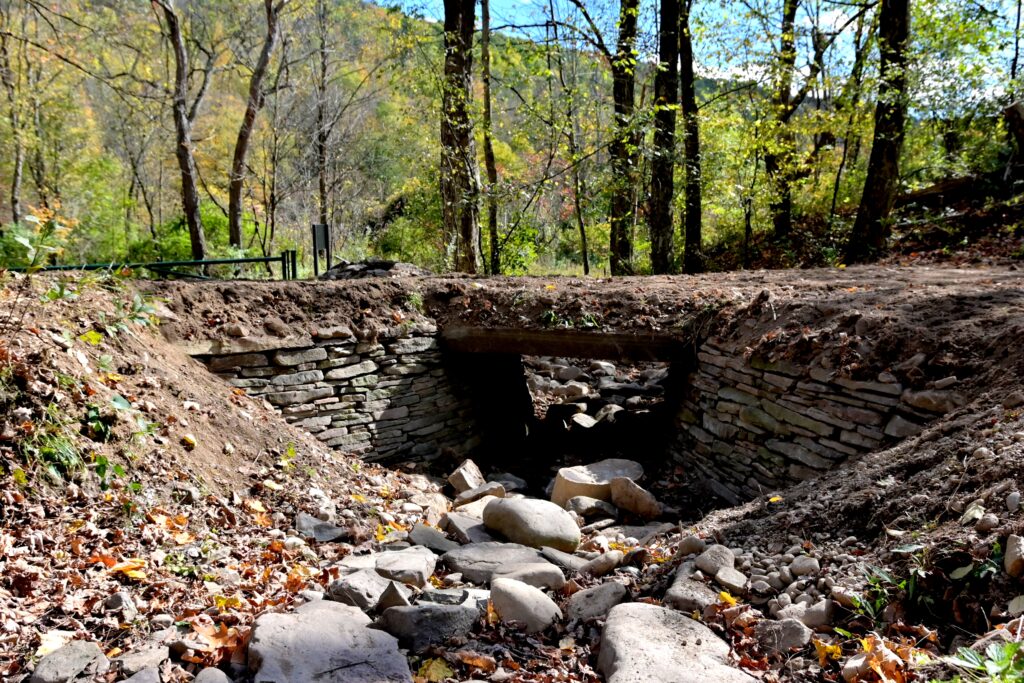 About a half-century ago, the small bridge over the stream at the driveway entrance, from Creek Road onto the Farm, was damaged and could no longer carry the weight of a vehicle. Since then, the stone structure served as a footbridge only. In 2013, DFCLT Land Manager, John Arnone, created the current entrance and parking terrace for vehicles.
A few years ago, during an especially ferocious hurricane, the powerful force of water, rolling down the hillside stream, ripped the stream bed, cutting ruts deep enough for an adult to stand inside, and plummeted large stones downhill in the stream. The force of the storm caused the old stone bridge to completely collapse into the stream. Water, blocked from flowing down to Martins Creek by the bridge stones fallen in the stream, overflowed onto the grounds of the farm's lower tier.
During the Summer 2020, after two years of searching for the right contractor, DFCLT had a beautiful, new stone bridge constructed on the old driveway, over the stream. The elegant bridge is like a large sculpture. John Arnone recommended local stonemason Jason Cook of Highland Landscaping, as an excellent contractor for the project. Cook, an expert stonemason with an understanding of history, proved to be ideal for the project. He and his team meticulously constructed a strong, impressive stone bridge over the stream at the entrance, and in so doing restored the entrance as it was more than fifty years ago. Local photographer, Ron Parsons, chronicled the building process, step-by-step, for DFCLT's archives, creating a visual record of the construction.
Once the re-build was completed, Arnone added earth on top of the bridge so that it blends seamlessly with the green driveway, as it did originally. As DFCLT President Denise Dennis said, "When I was little, I didn't know it was a bridge because it was covered in grass like the rest of the driveway." The new bridge will serve as a footbridge only. The entrance established by John Arnone, in 2013, will continue to be the vehicular entrance onto the farm.