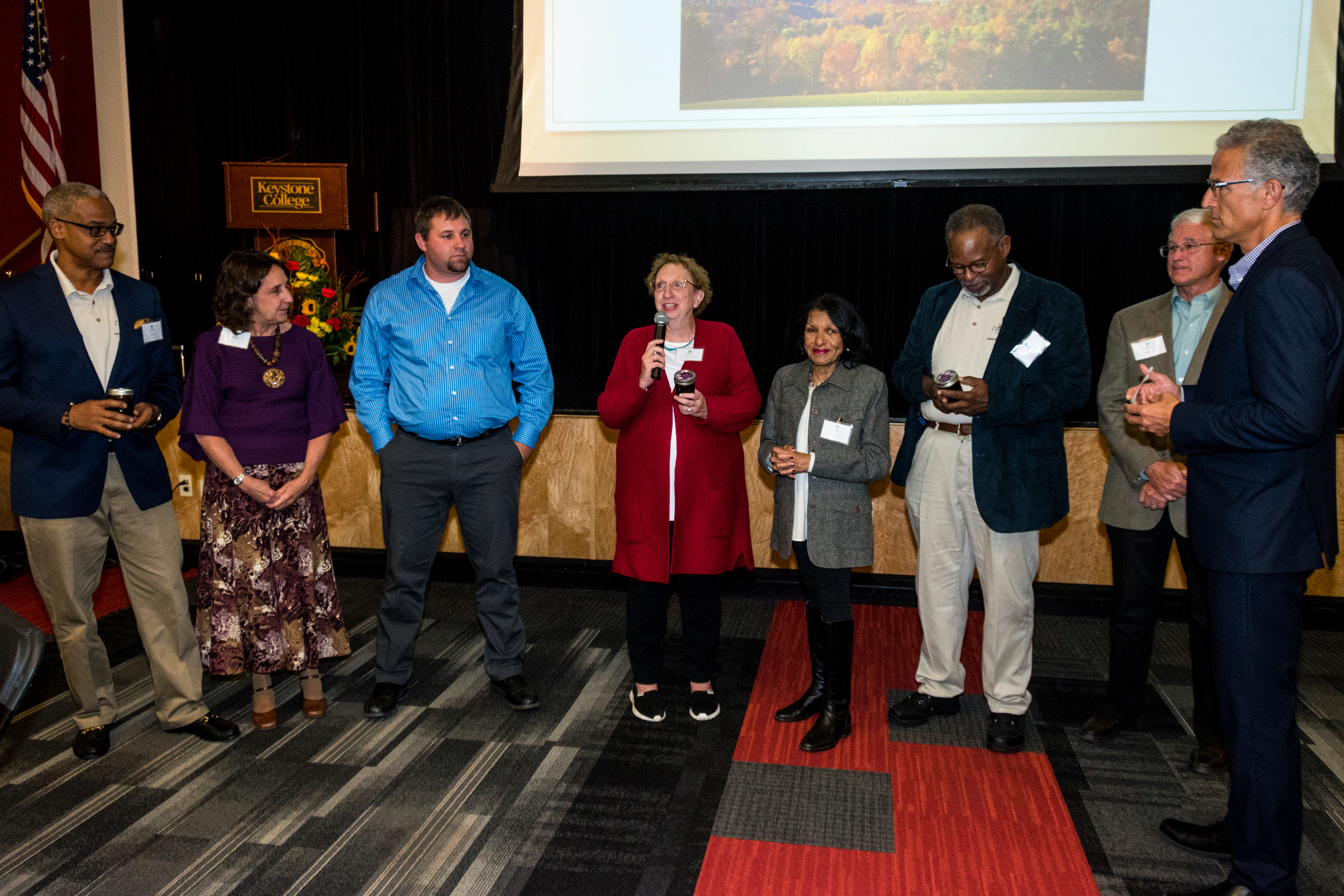 Maple Syrup Presentation, from left to right, Lonnie Moore, III; Karen Voigt, Superintendent, Mountain View School District; Brion Stone, MVSD, Charleen Martens, MVSD, Denise Dennis, Darryl Gore, Wade Catts, DFCLT Board, and George Stark, DFCLT Advisory Council
In March 2019, students from the Mountain View School District (MVSD) made history at the Dennis Farm. Under the direction of their teacher, Brion Stone, seven students participated in a science project: tapping maple trees on the Dennis Farm for sap, from which they produced maple syrup. This marked the first time in more than a century that maple syrup was produced on the farm.
In October, during DFCLT's Seventh Annual Symposium at Keystone College, Charleen Martens, honors teacher, Karen Voigt, MVSD Superintendent, and Brion Stone, presented Dennis Family descendants Denise Dennis, Darryl Gore and Lonnie Moore with jars of the maple syrup produced from the farm's trees, and announced that the syrup won second prize at the Harford Fair.
Reflecting on the significance of the maple syrup production on the farm brought tears to Denise's eyes. According to the 19th century US Agricultural Census, maple syrup was one of the farm's major products. In his essay, "Persistent Practices and Racial Politics: Maple Sugaring on the Dennis Farm," John Roby, PhD, whose doctoral thesis was based on archaeological studies of the Dennis Farm, writes that the farm was producing significantly more maple syrup than other regional farms.
He explains that, at that time, Abolitionists were encouraging people who opposed slavery to purchase maple sugar instead of the cane sugar that was produced with brutal slave labor in the South and the Caribbean. Roby believes the Dennis Farm's maple syrup production was the family's way of supporting the Abolitionists' boycott of cane sugar.
Family artifacts, including 19th century books and copies of receipts from newspaper subscriptions, attest to the family's awareness and make it clear that they were following what was happening in the United States regarding slavery and the plight of African Americans.
The Mountain View students' science project not only taught them how to tap maple trees and produce syrup, it produced the first Dennis Farm "crop" in more than 100 years. Even more awe-inspiring is that it pays tribute to maple sugar as a symbol of the 19th century anti-slavery movement.
View a slide show of the Mountain View students tapping maple trees below.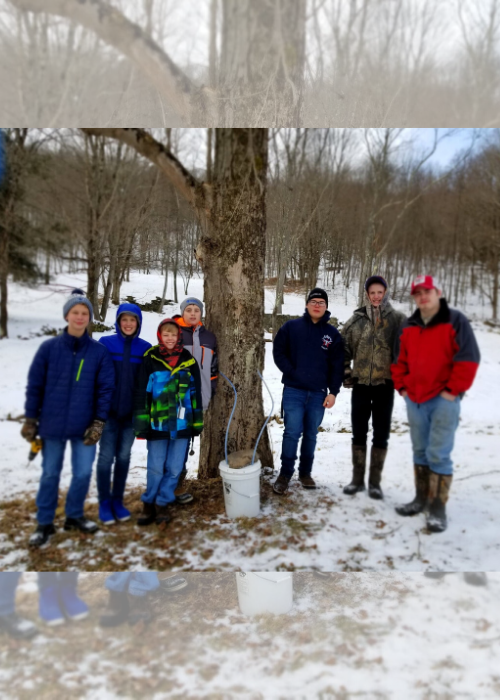 Mountain View School District Students, Dennis Farm maple syrup production project, Winter 2019, from left to right, Jonathan Symuleski, Riley Jagger, Hunter Kozloski, Tanner Stout, Leland CaraBello, Josh Pellew, and Zeb Gregory.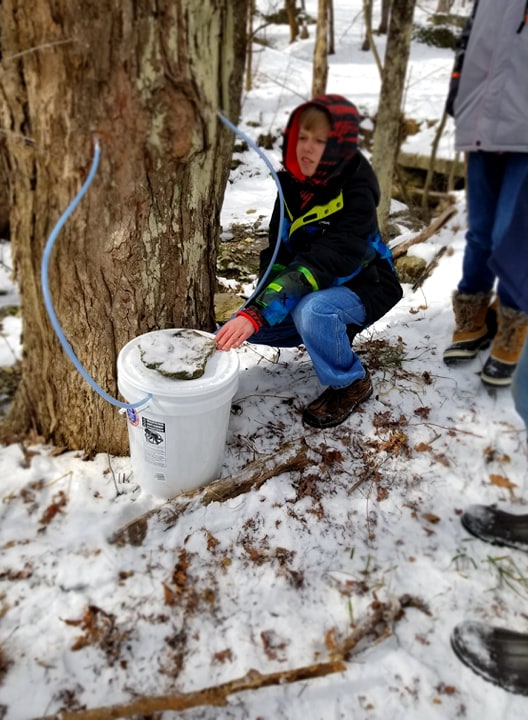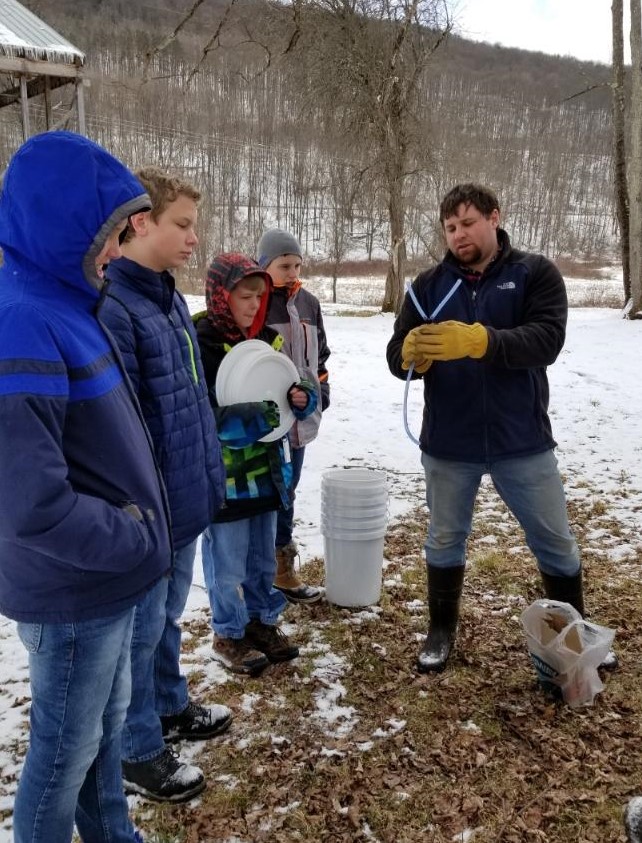 Mountain View teacher, Brion Stone, instructing (left to right) students Riley Jagger, Jonathan Symuleski, Hunter Kozloski, and Tanner Stout on how to insert tubes into the sides of the maple sap collection containers.