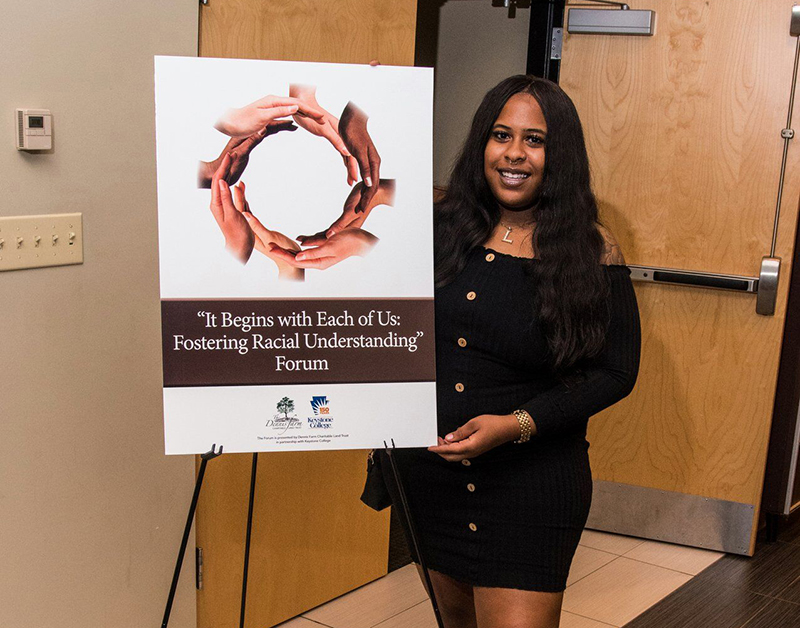 Pictured above, Lonaé A. Moore, an eighth generation-direct descendant of the Perkins-Dennis family, at DFCLT Forum, "It Begins with Each of Us: Fostering Racial Understanding," October 10, 2018.
The Dennis Farm Charitable Land Trust mourns the loss of our beloved Lonaé Ashley Moore, 20, an eighth-generation descendant of the Perkins-Dennis Family. The daughter of Lonnie III and Shante Moore and the granddaughter of Edith Dennis Moore Stephens who passed away in 2017, Lonaé was a bright light and source of joy in all our lives. She tragically lost her life in a car accident on November 3, 2018.
Less than a month before her passing, Lonaé participated in the Dennis Farm Forum, "It Begins with Each of Us: Fostering Racial Understanding," October 10, and our "Sixth Annual Symposium: Dennis Farm Anniversaries 1793-2018", October 11. These were not the first symposia she attended. Lonaé was enthusiastic about learning more and more of her family history and DFCLT. She was DFCLT's first intern, assisting the president and learning the basics of leading a non-profit organization.
A student at Delaware State University, majoring in criminal justice, Lonaé was DFCLT's first scholarship recipient. She planned to go to law school. In 2015, when she was still in high school, Lonaé wrote an article for this web site about her experience at the opening of the exhibit, "Early Settlers: the Perkins-Dennis Family", at the preview exhibition of the Smithsonian Institution's National Museum of African American History and Culture. You can read her article here.
In addition to her parents, she is is survived by her twin brother Lonnie IV, sister, Fleur, aunt, cousins, family and friends. Lonaé was greatly loved and will be missed immeasurably.