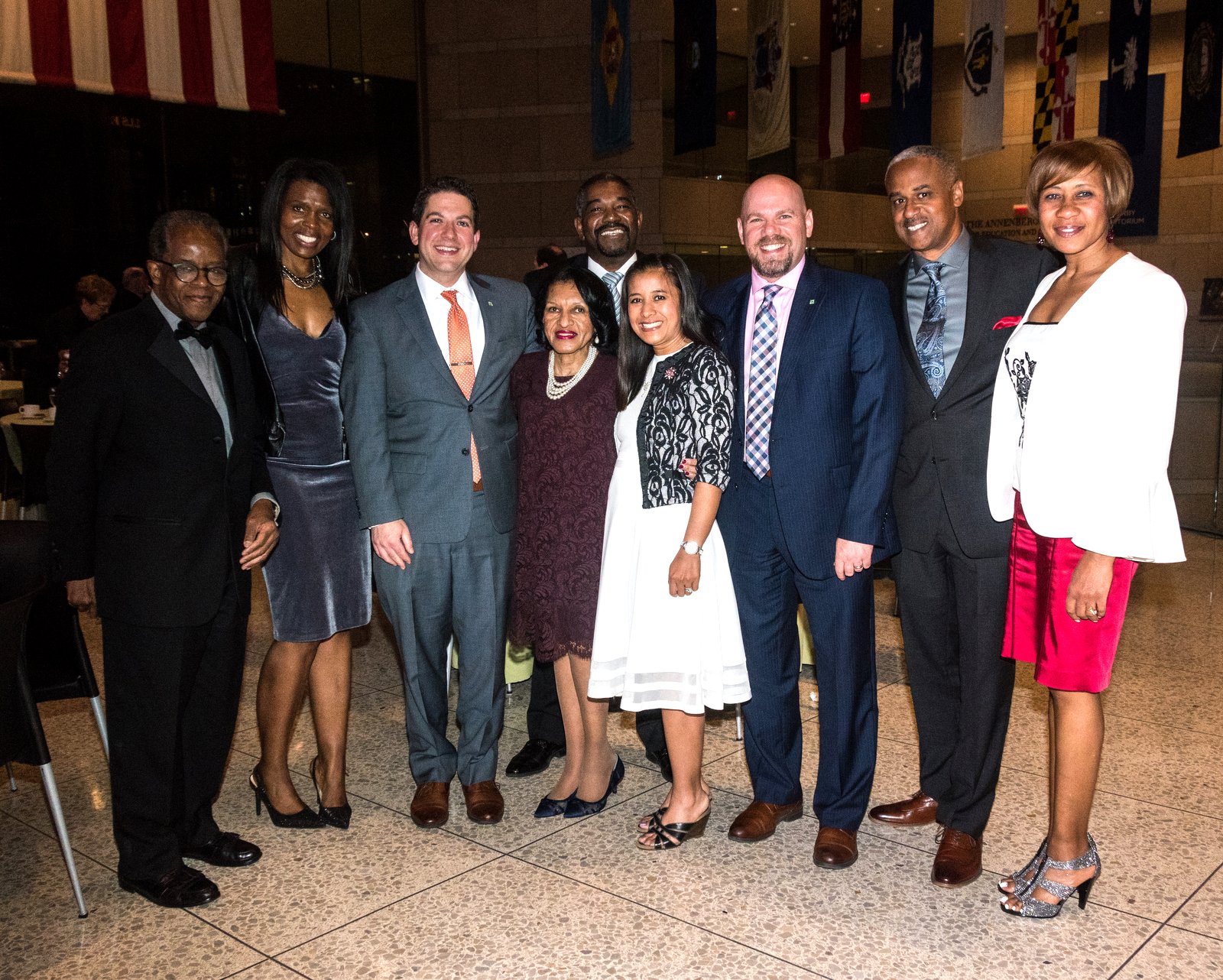 From left, Author Lee Daniels, Wendy Lyles, Paul Cola, Denise Dennis, Tony Lyles, Nina Cola, Dan Seiden, Lonnie Moore, III and Shante Moore.
To officially launch the Capital Campaign to raise funds to match our $400,000 grant from National Endowment for the Humanities, DFCLT hosted a Spring Fete & Fundraiser: "The Preservation of a Historical Legacy," on a lovely spring evening at the National Constitution Center facing the Independence Hall in Philadelphia, May 2, 2019. The goal is to raise matching funds to transform the 195-year-old Dennis farmhouse to a museum. To the music of the jazz band, Black Tie Entertainment Group, guests were treated to an elegant soiree that began with a cocktail reception, Silent Auction, and an exhibition, "The Dennis Farm 2013-2018: Photographs by Alfred B. For."
Following a sit-down dinner, veteran broadcast journalist and documentary filmmaker, Renee Chenault Fattah, set the evening's program in motion by introducing international jazz vocalist, Joan Minor, who received a rousing standing ovation. Wade Catts, DFCLT Board member; Darryl Gore, VP of Development; Lonnie Moore III, VP of Marketing, and Denise Dennis then presented awards and cash prizes to DFCLT's Lonae A. Moore Memorial Forum essay contest winners, Jeanet Harris and Jamoca Harkins, students at Cheyney University, for their essays based on the theme "It Begins with Each of Us: Fostering Racial Understanding."
This was followed by a five-minute video about the early history of the Dennis Farm and a slide show presentation by Philip Yocum, architect for the Dennis Farm House restoration and rebuilding project, about the work ahead entitled "Transforming the 195-Year Old Farmhouse to a Museum." The evening closed with a presentation by DFCLT President & CEO Denise Dennis, announcing the NEH matching grant and the Trust's goals looking forward. Using vintage and recent photographs, she traced the 20th and 21st Century history of the Dennis Farm and asked everyone present to encourage others to make contributions to DFCLT's farmhouse restoration and rebuilding project.
View more photos in the slideshow below.