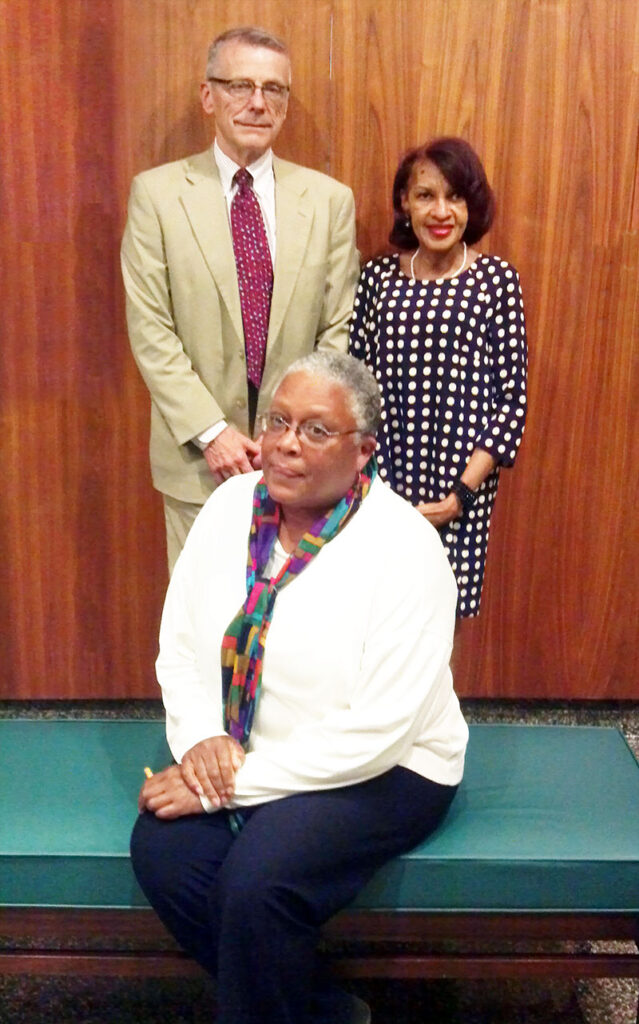 On June 10, 2014, the fifteen-member Historic Preservation Board of the Pennsylvania Historical and Museum Commission (PHMC), under the leadership of Chairperson Richard Leonori, AIA, voted unanimously to have the Dennis Farm listed on the National Register of Historic Places designated as a site of national significance.
The Board meeting was held in the State Museum of Pennsylvania's grand William Penn Memorial Hall beneath a larger-than-life mural depicting scenes from the history of the Commonwealth. Prior to the meeting, each member of the Historic Preservation Board read the formal document nominating the Dennis Farm for the National Register.
Keith Heinrich, PHMC Historic Preservation Specialist made an in-depth slide show presentation about the Farm during the meeting, strongly recommending that it be listed on the National Register. Following Heinrich's presentation, DFCLT President Denise Dennis was invited to offer a few words. Wade Catts and Tom Scofield of John Milner Associates who prepared the nomination document attended the meeting, as well. During the Board's discussion, several members generously praised the quality of the nomination.
Edith Angeline Dennis (1899-1980) was steward of the Dennis Farm from 1939 until her death, kept the farm in the family, and was responsible for the 1939 restoration and the subsequent family summers there. A teacher and alumna of Bloomsburg and the University of Pennsylvania, Edith Dennis lived in Harrisburg from 1919 to 1980. Having witnessed the construction of the State Museum of Pennsylvania in the 1960s, she would have been especially pleased and gratified that PHMC honored the farm, to which she gave so much of her life, in this way.
The PHMC Historic Preservation Board members are Suzanne Barucco, Ardmore; Steven Burg, PhD, Shippensburg; Richard Burkhert, Johnstown; Lloyd Chapman, Akron; Brian Fritz, New Castle; Steven Gimber, PhD, West Chester; Susan Hannegan, Mill Hill; Chairperson Richard Leonori, AIA, Scranton; Matthew Marusiak, Ridgway; Timothy Murtha, PhD, State College; Margaret Newman, Carversville; Leslie Patrick, PhD, Lewisburg; Martin Rosenblum, AIA, Philadelphia; Patrick Shattuck, Pittsburgh; and Jeff Stack, AICP, Pittsburgh.
Photo Caption: Seated, Leslie Patrick, PhD, PHMC Historic Preservation Board member. Standing, Richard Leonori, AIA, Chairperson, PHMC Historic Preservation Board and Denise Dennis, DFCLT President, State Museum of Pennsylvania, June 10, 2014