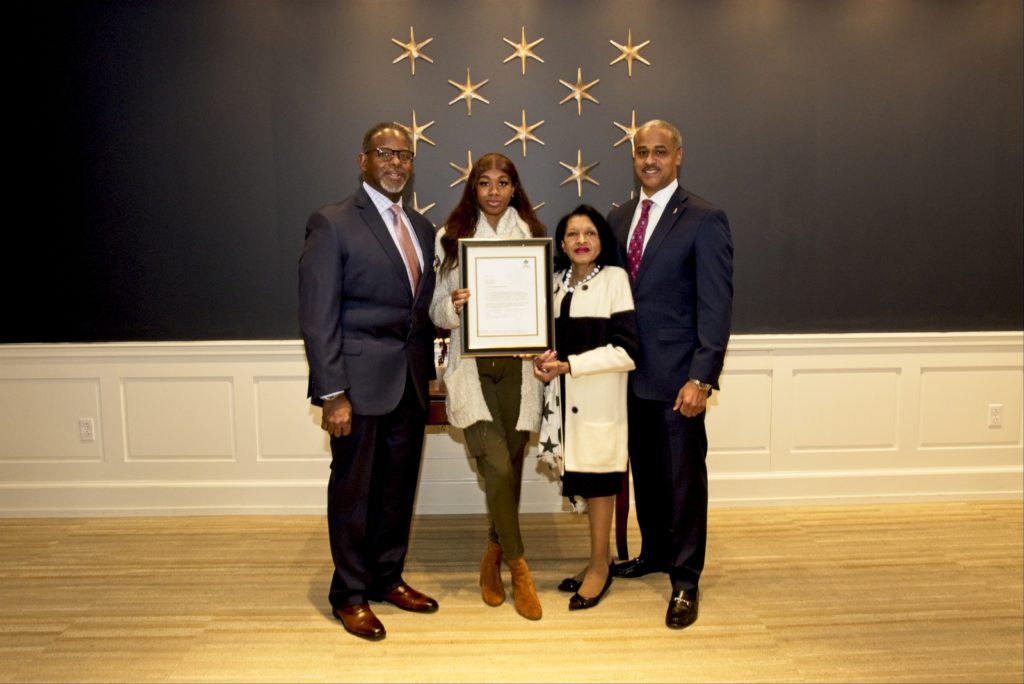 From left, Darryl L. Gore, VP Development, Aniyah L. Bradley, M. Denise Dennis, President and CEO, and Lonnie H. Moore, VP Marketing, DFCLT
The Dennis Farm Charitable Land Trust (DFCLT) proudly congratulates their 2019-2020 scholarship recipient, Aniyah L. Bradley, who received a Bachelor of Arts degree in Criminal Justice from Delaware State University (DSU), on May 16, 2020, with a 4.0 grade point average for the semester and a cumulative 3.6 average. 
The six-thousand five-hundred dollar scholarship was announced and formally presented during DFCLT's annual Lonae A. Moore Memorial Forum, "It Begins with Each of Us: Fostering Racial Understanding," held at the Museum of the American Revolution in Philadelphia, February 8, 2020.  
The scholarship was given in remembrance of Lonae A. Moore, an eighth-generation direct descendant of the Dennis Family and a Delaware State University student, who lost her life in a car accident in 2018.  Ms. Moore, a criminal justice major and DFCLT's first intern, would have graduated from DSU this year.  Ms. Bradley and Lonae Moore were classmates and friends.
The Dennis Farm Charitable Land Trust salutes Aniyah Bradley for her outstanding academic achievement. 
We wish her continued success as she works toward future goals, and will be following her as she proceeds through life.